> 1/1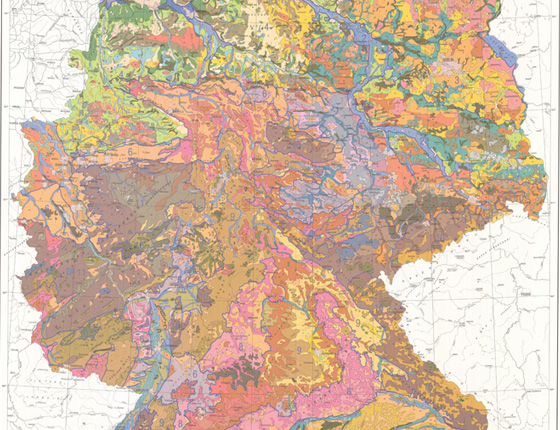 ~ ~ ~
Soil in Germany
---
Germany covers an area of 357 138 km².

52,3% = farmland
30,2% = forest
13,4% = sealed by buildings and roads
2,4% = water surface
1,7% = other

Soil sealing

Everyday 81 hectares (=116 football fields) are being sealed and therefore lost.
74% of the drinking water in Germany comes from groundwater.
1 ha of soil can generate about 1.350 cubic metres of groundwater by filtering and binding toxins.
Sealing more and more land reduces the creation of groundwater and increases the risk of floods.
Land import

World has about 1.4 billion hectares of arable land
A fair distribution per person = 2,000 m2
Consumption per person in Germany = 2.400 m2
72% of these 2400 m2 are for producing animal products, specifically meat.
Germany and the UK each import almost 80 million hectares a year.
Monoculture

22% of farmland is used for growing biomass as energy resource.
An additional 1 million hectares of corn were gown in the last 10 years.
The monoculture comes with negative effects for the soil in form of erosion and loss of biodiversity.
Soil compaction

With the increasing weight of agricultural machinery, soil compaction has become a problem. In extreme cases the ground on a field has to carry vehicles that weigh up to 60tons. In Germany, 10-20% of the farmland have a problem with soil compaction.
Sources:

Bodenzustand in Deutschland, Umweltbundesamt, 2015
Fact Sheet. Stark gefährdet – der Boden unter unseren Füßen. Umweltbundesamt, 2015